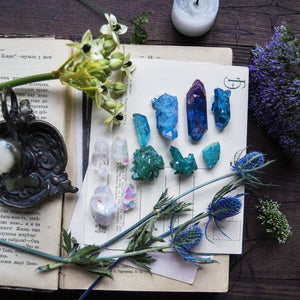 Crystals & Energy Balancing Tools
---
The ability of crystals, gemstones & herbs to harmonize & balance the body while soothing the mind, and tapping into the potential of the spirit, is a miraculous gift from nature. These beautiful specimens are also exceptionally powerful in clearing & balancing the energy in your sacred spaces of living, work & healing.
Each piece has traveled from various locations around the world, been hand-picked & cleansed before making it's way to you. With this collection, y
ou will have an arsenal of naturally beautiful, restorative tools at your disposal the next time you're feeling unfocused, unproductive, exhausted, anxious or overwhelmed...