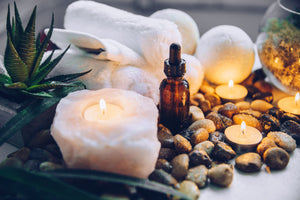 Bath Bombs & Bath Oils
---
SELF-LOVE:
(noun)
Regard for one's own well-being & happiness.
Welcome to the Self Love Club. Taking a well deserved time out to still your mind, relax & introspect is essential in maintaining balance in our everyday lives. The Urban Geisha believes that ambiance is the main ingredient to the best self-love potion.
Each bath bomb is inspired by a Guided Meditation. Everyone needs that extra visualization to fully disconnect & let go. You simply drop in your bath bomb, it paints a beautiful picture with decadent oils & hypnotic colours. Finally, your crystal falls in to charge your water, you read your journey card & simply journey off, inwards.